A – Learning for Everyday Life (LFEL)
What is LFEL? – LFEL is a 28 week QQI accredited course aimed at people who want to improve their personal potential and life chances through education and training. Participants cover 6 modules – Maths, Communications, Personal Effectiveness, IT Skills, Office Procedures and Career Preparation. This leads to a Level 3 Major Award in General Learning.
Who's it for? – It is aimed at people who may have left school early, those who want to learn new skills, meet new people and build their confidence and people interested in getting into a job. The course is open to people with less than a Leaving Certificate level of education and/or in receipt of a social welfare payment.
It's free
LFEL aims to progress participants into mainstream education, training and employment One to one support and guidance is provided by the KCETB Adult Education Guidance and Information Service (AEGIS).
Intensive family and personal support is provided through an allocated Key Worker to address family, health, social and other issues that act as barriers to participation and progression.
Participants have the opportunity of attending one hour ESOL training per week to help with English language skills.
B – Preparation for Work Programme
This is a QQI accredited part-time 11 week course that provides participants with an opportunity to prepare for and gain experience in the labour market and to explore progression options. It is targeted at people with limited or no experience of working including those who have been out of the workforce for some time and works to provide the skills and confidence required to gain employment.   One to one support is also provided on progression options and family and personal issues. Participants complete a 4 week work placement as part of the course.
Location: St Catherine's Community Services Centre
Times: Monday — Friday, 9.45 am — 1.00 pm
Start Date: Monday 9th April 2018
Course Duration: 11 weeks including 4 week work placement
Course Content: QQI Level 3 Work Experience and Internet and Email
C – Community Education/Evening Courses
St. Catherine's provides short term community based adult education courses designed to provide participants with a good experience of their first step back into education. These courses are low cost and accessible with reduced fees for people in receipt of social welfare (proof of recent DSP payment is required at time of enrolment).
Courses for Spring 2018 include:
Computers for Beginners
Tablets for Beginners
Smartphones for Beginners
Interior Design
Yoga & Relaxation
Make Up & Nail Art
International Women's Group
Adult Education Spring 2018 Brochure & Timetable
To enrol
Please drop into St Catherine's Community Services Centre, St Joseph's Road, Carlow Monday – Friday -9.30am & 12.30 pm.
If you are in receipt of social welfare, you may be entitled to the reduced fee rate.  Proof of social welfare payments must be presented.  Full fees must be paid on enrolment
Digital Skills for Citizens Scheme
Have you always wanted to learn how to use the Internet and how to email?  Well now is your chance!
St Catherine's Community Services Centre are delighted to offer you the chance to learn the basics of the Internet and Email.  Each course consists of 5 weekly sessions and is aimed at people with little or no computer experience.  We also run improvers courses, aimed those who are familiar with the basics but who want to become more confident in their knowledge.  Courses run in the afternoons or the evenings and new courses start every week.  For more information click here
Did You Know?
In 2014, 15 Learning for Everyday Life participants achieved a QQI Level 3 Major Award in General Learning.  11 of the group progressed to further education and 3 to part-time employment
18 Preparation for Work participants completed the course and 17 achieved QQI accreditation. 18 participants successfully completed work placements.  12 participants progressed onto further education and 3 into part-time work
Over 115 participants partook in part-time courses.  These courses included: Computers for Beginners and Improvers, Yoga, Childcare, Make Up & Nail Art, Benefit 4 and Sugarcraft
190 participants took part in Benefit 4 Internet and Email Courses
For more information please contact: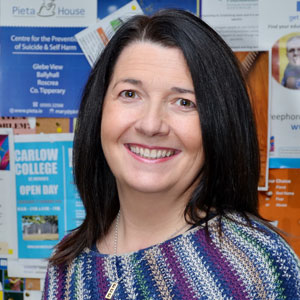 Andrea Dalton
Senior Community Worker for Community Education
St. Catherine's Community Services Centre