The History of St. Catherine's
In the Autumn of 1972 a series of meetings were held in Carlow of representatives of local voluntary organisations. At these meetings a general desire for more co-operation among voluntary groups was expressed. By February 1974, Carlow Community Services Council was formed, with 25 organisations represented at its first meeting.
Two major developments took place in 1975, which laid the foundations of the present St. Catherine's. A Social Worker was engaged by the Community Services Council, effectively their first member of staff. Also that year, Bishop Lennon donated the old Mercy Convent Boys Primary School building (1878) to the Council, and this subsequently became St. Catherine's Community Services Centre.
Our building was also expanded in 2002 to the building you see today.
Our New Childcare Service in the Kilkenny Road Community Childcare and Family Centre opened in September 2014
In 2015 Carlow county Council held a Civic Reception to mark St. Catherine's 40 years of service to the people and communities of Carlow
St. Catherine's Community Services Centre has received the following awards:
• 2002 FAS Community Initiative Award
• 2006 to 2008 and also 2010 to 2013 All Ireland Centre of Excellence Award for Community Childcare
• 2007 County Carlow Chamber, Best Public Service –Winner
• 2007 FETAC Quality Assurance Agreement as a Registered Provider of programmes leading to FETAC Awards
• 2008 Represented Carlow in the All-Ireland Pride of Place Competition reaching the final 6
• 2008 & 2010 AIB Better Ireland Award
• 2009 "Best Place to Volunteer Award" awarded by Carlow Volunteer Centre to the Meals on Wheels Service in St Catherine's CSC
• 2011 Business Award from County Carlow Chamber, Not for Profit Organisation of the Year (finalist)
• 2011 Early Childhood Ireland Innovation Award – Overall Winner
• 2011 Early Childhood Ireland, Innovation in Inclusive Practice Award
• 2016 Age Friendly Ireland National Community Innovation Award for Meals on Wheels Standard of Excellence quality framework
Would you like to give a donation or become a volunteer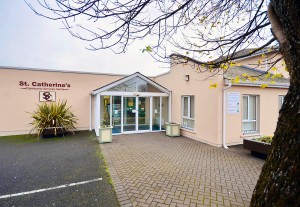 St. Catherine's
St. Catherine's Community Services Centre